Satlink Satellite connection
Inmarsat Fleet Xpress

The future proof maritime edge platform
Satlink's Fleet Express is a fixed price unlimited data service consisting of Vsat (Ka-band) and Fleet Broadband or FB (L-band).
The service uses the Vsat terminal as the primary connection and FB as the backup, and both antennas are equipped with an INSD (Inmarsat Network Service Device) that automatically and instantaneously switches between Ka-band and L-band according to the communication environment, ensuring smooth communication.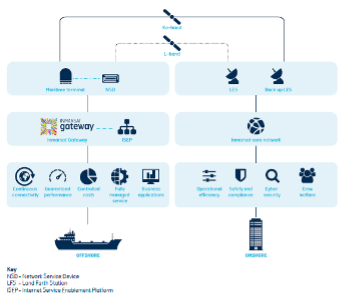 Coverage
・Vsat and FB for a fixed price
・Unlimited data service
・Global coverage
・Fully redundant
・Full management services
・Low cost VoIP calling
・24-hour support
・Regularly scheduled remote system support
・Tailored Data Plans to your needs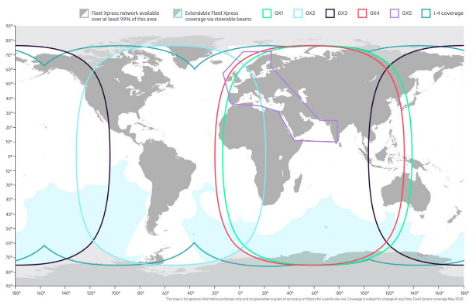 Fleet Express provides redundant global service with the I5 Vsat Ka band satellite fleet and the backup I4FBL band fleet.
・Continuous Connectivity
Ultimate reliability through a dual satellite constellation using Ka-band with unlimited L-band back-up,ensuring seamless global mobility

・Guaranteed Performance
Committed data rates backed-up by service level agreements ensure that the customer aalways gets what they pay for

・Controlled Costs
More accurate cost management with a wide selection of flexible subscription packages and one invoice

・Fully Managed Service
Standardised plug-and-play service with 24 / 7 / 365 management, monitoring and support globally for simplicity and complete peace of mind

・Business Applications
A unique opportunity for enhanced operations by deploying value added services developed by third party application providers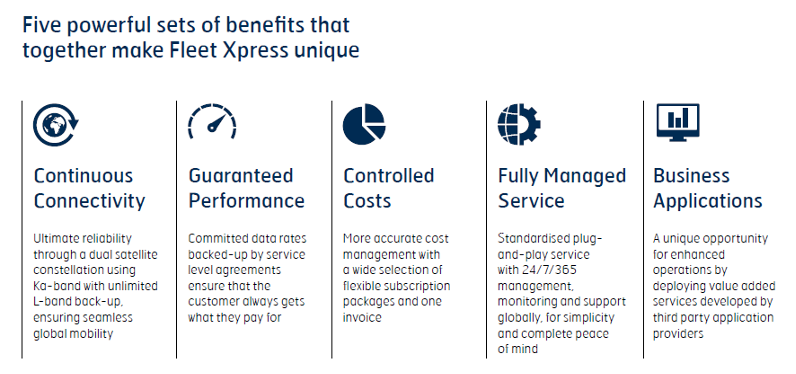 Centralized management
We will collectively bill you for all the above services, from the purchase of a complete set of equipment, to the proposal of an optimal communication plan, to the design, construction, and installation of an optimal onboard LAN for your vessel, to day-to-day operation.

If you have any questions, please feel free to contact us.