Satlink SLX+ Buoy
Higher Resolution for More Effective Fishing and ECO Friendly

Satlink SLX+ Buoy
Satlink SLX+ Buoy has the most powerful SIMRAD echosounder device with high resolution definition (0.05m versus 1m of the previous models).
The echosounder transmits via satellite the amount of biomass it detects below the buoy to a depth of 115 meters.
•High Resolution (0.05m vs 1m of previous models)
•Chirp Pulse
•Spread Spectrum technology
•Higher accuracy of echosounder measurements
ECOFRIENDLY BUOY FOR A SUSTAINABLE FISHING
Satlink SLX+ Buoy is solar-powered without batteries inside therefore is completely lead-free.
SLX+ captures the energy that it requires to operate from solar panels and stores it in super capacitors.
This means its service life-span is only limited by environmental wear and tear.
In addition, it is the most sustainable buoy in the market and has been reduce in plastic for a better care of the environment.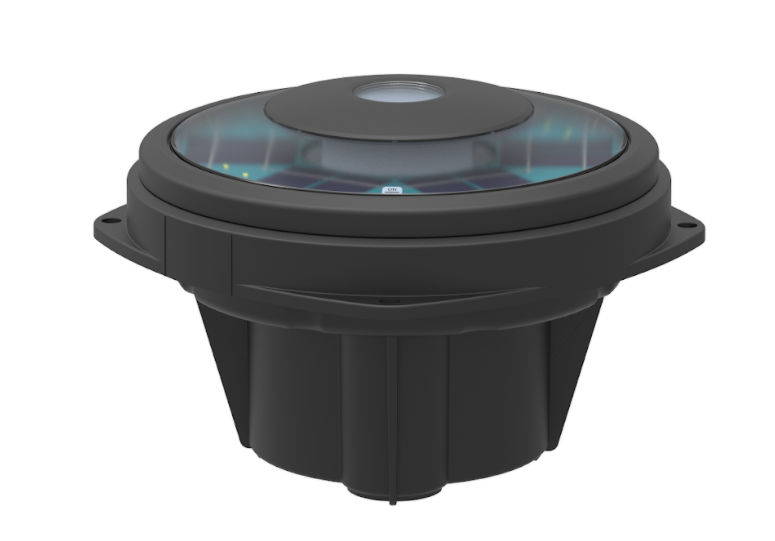 TECHNICAL SPECIFICATIONS
・Low profile and reduced visibility
・Simplified use
・More and more accurate

INFORMATION
・Sunrise shot
 - 3 echosounder transmissions, one measurement at sunrise, one hour before
and one after.
 - 1 SunriseShot
 - 4 daily summaries

•New echosounder with higher resolution
Technical specifications
TECHNICAL SPECIFICATIONS
| | |
| --- | --- |
| Weight | 8 Kg |
| Dimensions | 43.4 cm diameter x 26.6 cm high |
| Echosounder | SIMRAD ES16 |
| Energy | PV panels and super capacitor to store solar energy |
| Battery | Battery-free |
SIMRAD ES16 TECHNICAL SPECIFICATIONS
| | |
| --- | --- |
| Composite transducer | 200 KHz |
| Beam width | 32° |
| Power | 200 watts |
| Blind area | 3 meters |
| Range | 3-115 meters |
| Depth levels | 10 layers |
| Modulation | Broadband chirp |
Operating Diagram