MARCO PRODUCTS

MARCO
MARCO leads the world in fishing equipment, hydraulic and deck machineries for the fishing and shipbuilding industries, especially purse seiners. Since its license issued in 1968, MARCO technology has played a role in installing equipment for tuna vessels. As of June, 2002, MARCO gained ownership rights from Técnicas Hidráulicas to sell products, specializing in hydraulic system design.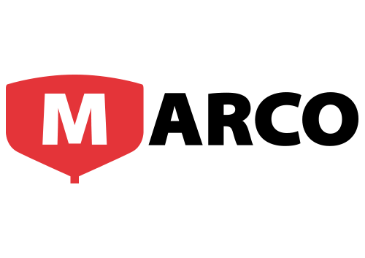 PURETIC POWER BLOCKS
More than 20,000 units in use worldwide in the tuna, anchovy, sardine, mackerel, herring, menhaden, pilchard, and salmon fisheries.
Haul nets faster and more squarely, with less wear, than by any other means.
Puretic Power Blocks are manufactured in three basic configurations: fixed side shell with pin­connected yoke; side shell that swings open for inserting the net; or open topped, suspended from one side.
Power Blocks in these configurations are offered in a wide range of sizes, from 19" to 90", and driving powers for every type of large commercial fishing net.
Driven by a hydraulic system powered through the vessel main or auxiliary engine, maximum pull, speed and the direction of the Power Block can be remotely controlled for fast retrieval of the net with a minimum of manpower.
Different sheave shapes are available with smooth rubber lining, with replaceable rubber cleats, replaceable aluminium cleats or fixed SST cleats, which give optimum traction. Choice of size is determined by how much net can be expected to pass through the Power Block at one time. In normal hauling, the net should not pile any higher than the top of the sheave.
The Power Grip is the MARCO exclusive designed rubber-tired wheel, driven by a separate hydraulic motor and mounted on an auxiliary arm that can be raised or lowered so that net adjustment can be made. Use of Power Grip in conjunction with the Power Block reduces net slippage to a minimum during net hauling. Also, the Power Grip assures that the net will be brought in square during hauling.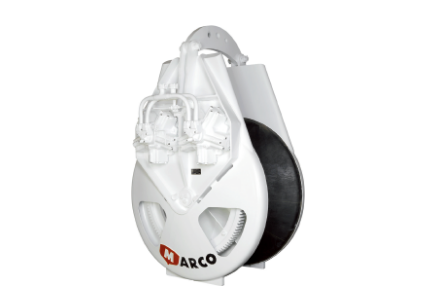 PURSE SEINE WINCHES
MARCO Purse Seine Winches are worldwide known as the most effective and durable winches in purse seining. For any size of vessel and any size of net, MARCO Purse winches provide fast pursing with any kind of sea conditions. Since 1958, MARCO has developed different models of Purse winches, accommodating to new technology in modern vessels. From 300 HP to 1300 HP hydraulic input power, MARCO purse winches ensure the best catches.
All models have three drums in cascade, for Forward, Main and Towline, including all of them the MARCO exclusive heavy duty disc brake and clutch assemblies, which provide best control and safety during the operation. This assembly includes the air brake for drum speed control when cable is releasing.
Driven by hydraulic motors, power is transmitted to the drums by the full lubricated gear train. Different gear train configurations are available having as choice independent or common drives for all three drums in order to optimize control and available power to the maneuver.
All drums include continuous automatic levelwind with stainless steel diamond screw and guide bars for long life. Each drum levelwind speed is accommodated to used cable diameter, to ensure a perfect cable winding.
Complete command of pursing operations is provided through MARCO exclusive control console and piping assemblies. It includes independent brake and clutch control for each drum, independent or common direction controls for each drive, precise speed control during high load conditions and mode selectors, high speed mode for the beginning of pursing and high torque mode for ring lifting.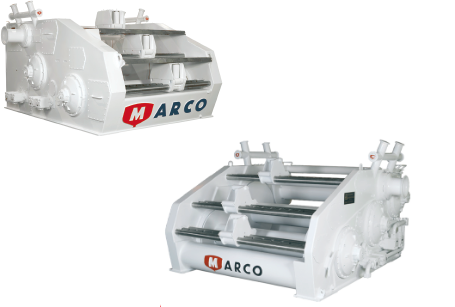 AUXILIARY WINCHES
MARCO manufactures a wide range of auxiliary winches for multiple purposes. A complete auxiliary winch set provides maximum reliability and safety for the complete fishing maneuver. Those rough winches have the easiest maintenance and longest durability as main characteristic. Different load series are available with multiple configurations for each purpose and a wide range of drum sizes. Drive parts are full interchangeable for same series models. Safety devices incorporated in the winches include automatic fail safe spring set hydraulic released disc brakes and counterbalance dynamic brake. The system will brake rapidly and positively in the event of power loss or hydraulic piping failure.

<TOPPING WINCHES >
MARCO topping winches provide maximum safety for boom lifting, including safety ratchet and optional band brake. Different sizes are available for any size of boom.

<DECK WINCHES>
MARCO auxiliary winches are most adequate for multiple operations such as boom Vanging, Brailing, Cargo, Choker, Single, Double, Skiff lifting. Wide range of drum sizes and also two speed and fast reverse drives are available.

<ANCHOR WINCHES>
For any size of vessel and up to 56 mm chain, MARCO anchor winches can be supplied with chain wildcat, cable drum or combined with mooring winch. All anchor winches include hand wheel band-brake, jaw clutch, wire rope gypsy and required classification society certificate. Any chain size chain stoppers are available.

<GYPSY WINCHES>
MARCO offers a wide range of gypsy brailing winches and vertical capstans for wire rope. Case hardened steel, bronze or SST gypsies are available. Different size of brailing winches, with one or two gypsies, include bitt fair-lead roller.

<OTHER PURPOSE WINCHES>
MARCO manufactures winches for other purposes such as trawl winches, net drums, mooring winches, oceanographic winches... More information on request.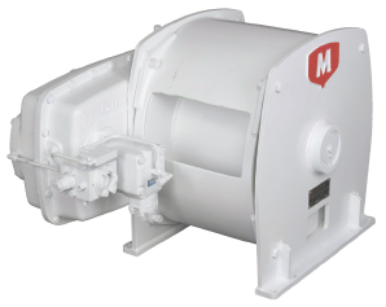 DECK CRANES
MARCO cranes are especially designed for marine environment and stand out for roughness simplicity and reliability.

<FEATURES >
•MARCO cranes are supplied complete, with electro hydraulic pumping unit,
controls and winch, all connected and fully factory tested.
•Cranes can be supplied with their electro hydraulic unit inside the crane or with
an external unit to be located at the engine room.
• Fixed, articulated or telescopic boom available.
• Continuous 360° rotation in either direction.
• Radio remote control system available.
• Besides the typical models for each series, any combination of load and reach
can be supplied up to 200 ton meter base moment.
• Safety devices incorporated in the circuit design include automatic fail safe
spring set hydraulic release disc brakes and counterbalance dynamic brake on
the main boom cylinders, winch and rotating drive. The system will brake rapidly
and positively in the event of power loss or hydraulic piping failure.
•The hydraulic circuit permits simultaneous hoisting, lifting and slewing, or
optionally priority control in any of these functions.
• The cranes are delivered complete with hook, wire rope and pulleys.
• All exposed metal surfaces are sandblasted and metalized or painted with a
heavy zinc based marine paint.
• Cylinder rods are stainless steel.

<CERTIFICATES>
The crane hooks, pulleys and wire rope will be supplied with test certificates issued by the Spanish "Inspection de Buques". Certificates and approvals issued by other Classification Societies may be obtained on request.

<FACTORY TEST>
Each crane is manufactured under strict quality control and inspection and is fully tested under load at the factory.

<APPLICATIONS>
• Fishing vessels
• Tugs
• Tankers
• Cargo vessels
• Cement carriers
• Offshore
• Reefers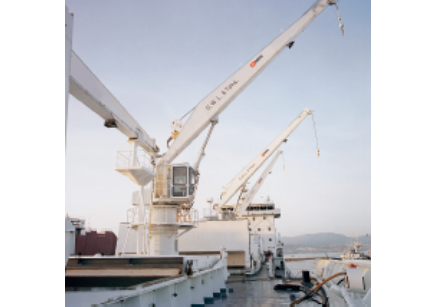 CORKLINE AND NET STACKERS
MARCO Corkline and Net Stackers are the newest revolution in Purse Seining. They have been designed to improve the net stacking and save time and crew physical effort when hauling the net. It is located abaft the net deck on the starboard side and about same height of the funnel.
From 5 to 14 m. reach, MARCO Corkline and Net Stackers consist in an articulated crane with single or double parallelogram structure boom to keep the head always in horizontal position. They are supplied complete with their own hydraulic power unit, solenoid operated control valve and remote radio control panel.
MARCO Corkline Stackers have at the boom end the specially designed corkline drum, which opens and closes with an auxiliary hydraulic cylinder to grab the net. One hydraulic motor on each half of the drum provides rotation to haul the corkline. Drum rotation can be selected in automatic or manual mode. In automatic mode it synchronizes with the Poweblock rotation. When Powerblock starts running the corkline drum starts hauling automatically and it stops each time the Powerblock stops. This system provides easier and faster maneuver to the operator. Once the drum is hauling the operator can pull the corkline and stack it easily moving the boom forward and after.

MARCO Net Stackers are equipped with a specially designed roller drum that besides the corkline it can also bring and stack the net. They are provided with continuous 360° rotation in both directions and double parallelogram articulation. Those rough models can be used not only for net stacking but an extra help for net handling and maintenance. Same as MARCO Corkline Stackers, they include the remote radio control panel and synchronize hauling mode with the Powerblock in both directions.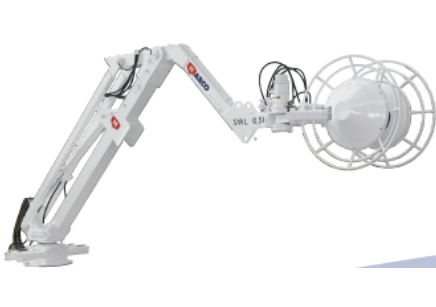 NET SIDE ROLLER
MARCO Tuna Net Side Roller is specially designed to help "dry up" the net. It speeds up the brailing process helping to reduce fish loss.
It consists in a rail-mounted roller, constructed in ribbed rubber sections and hydraulically driven. Single or double drive is available including free-wheeling feature in both directions. Different standard models are available and can be custom designed to fit any size of Tuna Purse Seine Vessel.
For more than 35 years, the MARCO Tuna Net Side roller has become essential for the Spanish-style brailing system.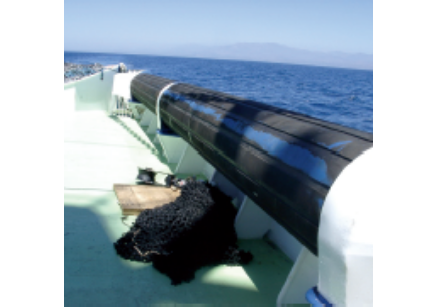 MARVACFISHPUMPS
Most simple and efficient method of pumping fish.
•Positive displacement pumping system.
•Less fish damage with cleaner return water.
•Ugged design for fast unloading of Mackerel, Anchovy, Sardine, Menhaden &
other similar species
•Best fish quality.
•Pumps to a distance of 1,800 meters against a head of 3 bar.
•Less than half the power required as conventional vacuum pumps, resulting in
lower installation and operating costs.
•Low and easy maintenance.
•Quiet operation, less moving parts.
• Smooth pumping, continuous suction and discharge.

<MARVAC PD- MODELS>
Three cylinders with synchronized displacement for continuous flow. Up to 800 m³/h total fish/water flow.

<MARVAC PC- MODELS>
Compact unit with one double effect cylinder. Up to 180 m³/h total fish/water flow.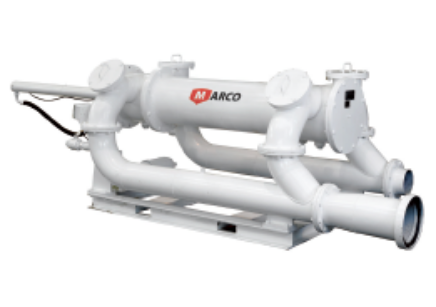 CAPSULPUMPS
Pump fish before net hauling is completed, quickly and easily.
Fish pumping couldn't be faster or simpler than the submersible Capsulpump which creates positive water pressure to push the fish and water through the fish hose and no priming or re-priming is required. MARCO invented submersible fish pumping with the introduction of the patented Capsulpump designs in a full range to meet the widest variety of applications.

<PORTABLE>
The Capsulpump can be moved from boat to boat or even used dockside to unload fish if water is first reintroduces into the hold. Its lightweight construction (corrosion-resistant aluminum body and impeller; fiberglass motor housing on most models) contributes to ease of handling. The Capsulpump uses lightweight, flexible hose that can be rolled up for compact storage on deck.

<PUMPING CAPACITY>
Capsulpumps can move a large fish/water volume quickly. For reduction fisheries in which large volumes are required MARCO's largest Capsulpump, the U3000 can pump in excess of 3,000 tons of fish/water per hour (at 4.5 m of head). To minimize damage to food fish, a Capsulpump should be run more slowly and the proportion of water to fish increased by not "drying up" the fish so tightly. A pre-rotation inlet to assist alignment of fish entering the Capsulpump and a cod end adapter for trawling applications are available as options.

<INSTALLATION >
Installation is easy, the pump can generally be tied into the existing hydraulic system. No auxiliary priming pump is needed. A complete Capsulpump system includes the pump, fish discharge hose, dewatering screen, hydraulic hoses, and a simple non-reversing hydraulic control valve.

<EFFECTIVE WITH SOUNDING FISH >
Some fish, sardine, for example, occasionally sound during pursing and pumping operation. Using Capsulpump, any of which can be lowered to depths of 50 feet, you can continue pumping fish when they have sounded. Not only is pumping uninterrupted, but often the school's sounding is aborted.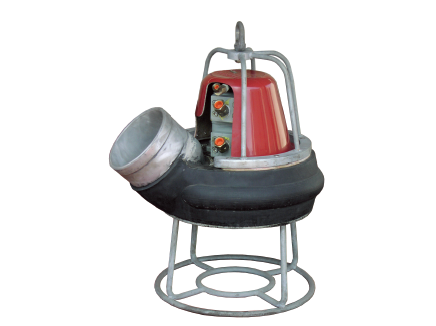 HYDRAULICPOWERUNITS • HYDRAULICPUMPDRIVES
<HYDRAULIC POWER UNITS >
MARCO designs and manufactures any size of complete hydraulic systems. From the hydraulic tank to the power units, MARCO engineers design all circuit details of each system with most adequate components in all required valves, filtering units, oil coolers and control systems.
MARCO manufactures any size of hydraulic power units, in custom made configuration and diesel or electric drive. Electro-hydraulic power units are available with single or double output electric motors, 50 or 60 Hz and adequate for marine environment. All kind of hydraulic pumps are available, such as fixed or variable displacement, single or multiple outputs and always direct mounted for perfect alignment.
MARCO manufactures the exclusive "L" type compact power units, including the oil tank with all the accessories and assuring a positive inlet pressure in pumps.

<HYDRAULIC PUMP DRIVES>
MARCO HPD's are specifically designed for marine applications and environments. They interface between a power supply (up to 1300 hp) and hydraulic pumps, efficiently transmitting power to one to five hydraulic pumps mounted at a single location. HPD's also function as collector drives that direct power from several inputs to a single output.
A single location for all hydraulic pumps eliminates foot mounting of the pumps, which can be MARCO and costly. Also eliminated are belts, chains, pulleys and sprockets, since an HPD can accept any SAE flange pump, as well as provide increasing and decreasing speed ratios between the power supply and hydraulic pumps.
Different standard models ensure that there is an HPD suitable for most applications. They are available with a variety of input options, including direct shaft, over-center clutch, and the exclusive Thermoplastic direct drive Gear.
INTERNATIONAL OPERATIONS AND SERVICE
Fishermen worldwide know that when a MARCO system is installed on their boat, they are equipped with the most dependable, reliable machinery available. They know, too, that MARCO is never too far away to provide assistance. Shipyards, for example, consult with MARCO engineers as they plan machinery requirements for vessels they design.
Vessels owners look to MARCO experts when they plan to upgrade or retrofit machinery for their hanging needs. And of course, when field service is required, MARCO is well known for having qualified technicians "on call" to go anywhere in the world.
And when it comes to product design, MARCO adheres to a long tradition of listening to fleet managers, skippers, vessel engineers, and crew members…and then responding with the machinery and circuit designs, the component developments, and the system integration that make MARCO's position unrivalled in deck machinery and systems.
When you need assistance, have a question or suggestion, or want information on any of ­MARCO's products and services contact MARCO or an authorized distributor. We look forward to the opportunity to serve you.